Restaurant in the old town of Dresden
bodega MADRID
Modern menu inspired by the cuisine of Madrid
Madrid – Style Tapas. Best paella. View of the Church "Frauenkirche". Bienvenidos.
Lunchtime
Mo – Fr 11 am – 2 pm
OPENING HOURS
So – Do:  11 am  – 10 pm                  Fr – Sa:    11 am  – 11 pm 
Lunch:                                           Mo – Fr:    11 am –  2 pm
NEWS
NEWS FROM THE BODEGA MADRID
LUNCH AT THE SPANISH RESTAURANT | EXCERPT FROM OUR NEW LUNCH MENU
Come by and order our current lunch dishes "To Go".
Avoid waiting time for yourself and simply pre-order by phone.
"vegetarian"
bell pepper halves stuffed with creamed vegetables and gratinated with cheese on a spicy tomato-basil sauce, served with basmati rice
 "grilled argentinian roast beef slices"
on red wine onions, served with broccoli mashed potatoes & small salad
10,90 €
"Fish skewers from the grill"
with fresh salmon, shrimps & cherry tomatoes on white wine sauce, served with broccoli mashed potatoes & small salad
10,90 €
ABOUT US
Our passion:
the spanish cuisine
Centrally located on Dresden's Neumarkt you will find our stylish & modern restaurant "bodega Madrid".
We put here on more modern influences of Spanish metropolises and pick up so constantly new tapas trends. But you don't have to miss out on the classics of Spanish cuisine. An extensive wine & aperitif offer offers almost every good Spanish drop – so the evening can end ideally.
On our spacious terrace you can enjoy the sun's rays and the unobstructed view of the beautiful Dresden Frauenkirche. For a more private ambience, our rustic vaulted cellar is ideal. It offers space for up to 25 people and is thus the perfect place for family celebrations or company parties.
Modern Spanish cuisine in Dresden
"Our mission: to bring the best and coolest dishes from Spain to Dresden".
Reviews of the Bodega Madrid …
Irene from Dresden
"… So I was here for the first time today and was thrilled not only by the view but also by the delicious food …"
Hoogla from Dresden
"… Especially the tapas are very tasty. The multinational team is very friendly, courteous and despite the busy business for fun to have. The wines are typically quaffable country wines and go well with the food. The Spanish brandy came pre-warmed (very positive) …"
Felix from Hamburg
" … Best Spanish in Dresden – authentic Spanish food, excellent taste, with great location.
Friendly staff that was responsive and accommodating despite a large crowd…
"
Try our
"Rosbif a la Cabra"
South American beef roast au gratin with
goat cheese & figs | served on arugula
11,90 €
Celebrate in our vaulted cellar
In the vaulted cellar you also have the opportunity to celebrate great festivities with your guests – no matter whether it is a birthday, wedding, company anniversary or the joy of life.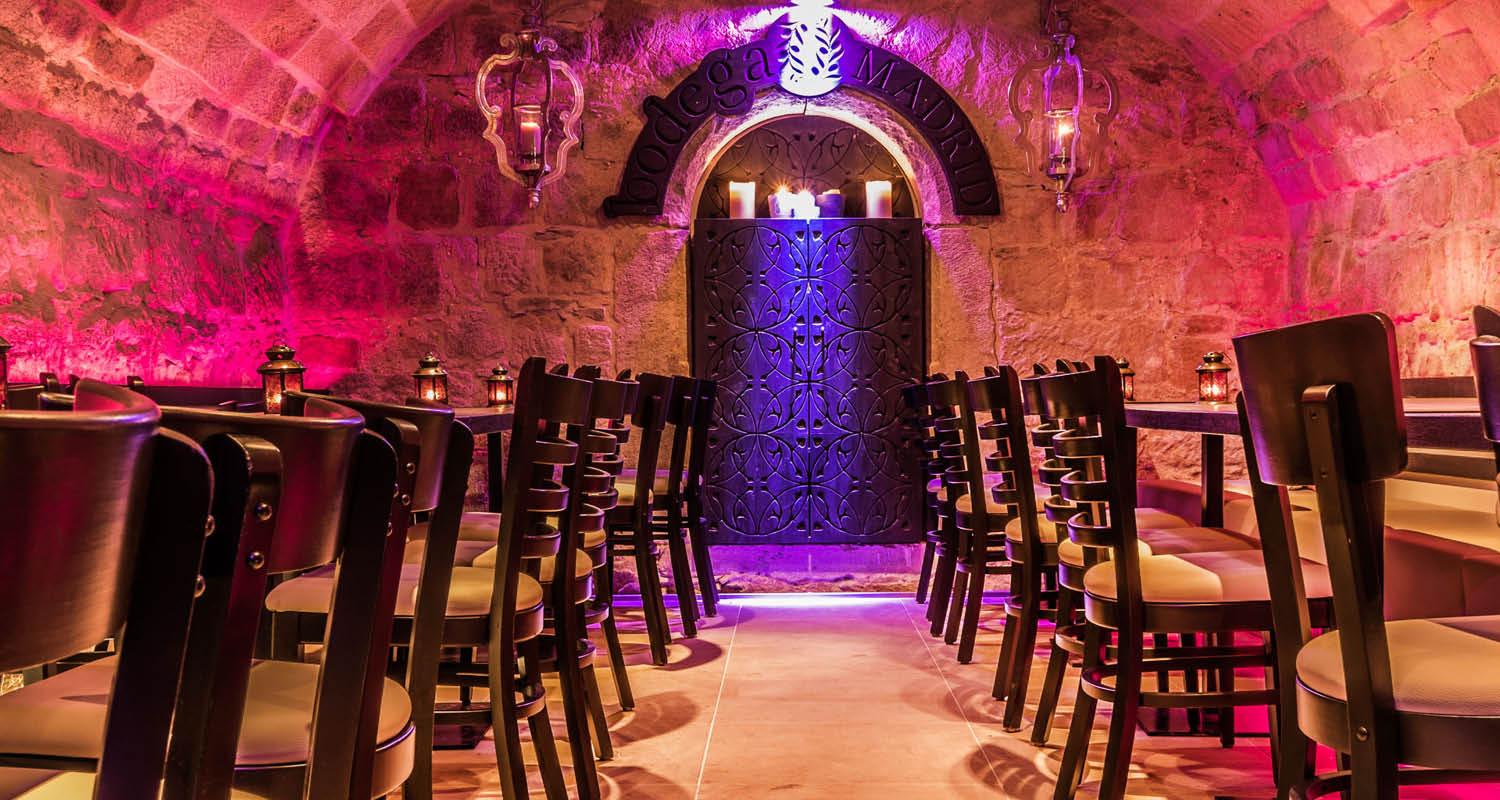 Vouchers for the
"bodega MADRID"
Treat your family, colleagues and friends with a voucher for a delicious Spanish meal with tapas & more with us.
Every day from 11 am – 3 pm
Lunch with a view of the Church "Frauenkirche"
Weekly changing lunch menu |
Enjoy Madrilenian ambience at lunchtime
You would like
more culinary experiences
experience?
Here you have the possibility to choose other
restaurants with high quality
international and homemade cuisine.
Our commitment
We help out! Whether for Christmas or during the year – we give something back.
Besuche uns
Neumarkt 12, 01067 Dresden
Kontakt
0351 49 77 38 00
mail@bodegamadrid.de
Open every day
Mo – So:  11 Uhr – 23 Uhr
Küche bis  23 Uhr
Mittagstisch
Mo – Fr: 11 Uhr – 14 Uhr
Like to subscribe to our news also on Facebook and Instagram
Here you will always find our new recommendations, lunches and promotions. We are looking forward to you!